However you choose to honor your baby is completely up to you. You do what you want to do for them and don't think twice or let others sway your decision.
Some years it'll be easy, other years will be hard.
The majority of these ideas come from others, but I felt like I needed to personally share them. This is mainly for holidays, and not for every day life.
Birthday
Birthday's can be bittersweet. If you have other children ask them what they want to do for their brother/sister that died's birthday. Include the whole family in this decision.
Have a birthday party that includes a cake, and sing happy birthday. This could even be making angel hair pasta and eating angel food cake.
Acts of service, this could be how old they are that year, or their actual birthdate (January 23, or March 12, etc).
Donate a weighted bear or other type of donation to another loss mom. There are several nonprofits that helps with pregnancy loss; Through the Heart, Twinkle Star Project (Canada), and MollyBear.
Birthday donation to a nonprofit that has helped you. Some that helped us during our loss; Share Parents, I am Fruitful, Hayden's Helping Hands.
Write a yearly letter to your baby.
Make a miscarriage kit for a local hospital. If you aren't sure, reach out to labor and delivery and see if they have a program. These kits could include; a bracelet set (mom bracelet, baby bracelet, and dad keychain), a journal, pen, soft socks, chapstick, etc.
Have a balloon/lantern release at the time they were born with a little note attached to your baby in heaven.
Go on an enjoyable trip to celebrate their birthday (or to just get away to be alone).
Christmas/Holidays
Again, holiday's in general can be triggering and make the day bittersweet.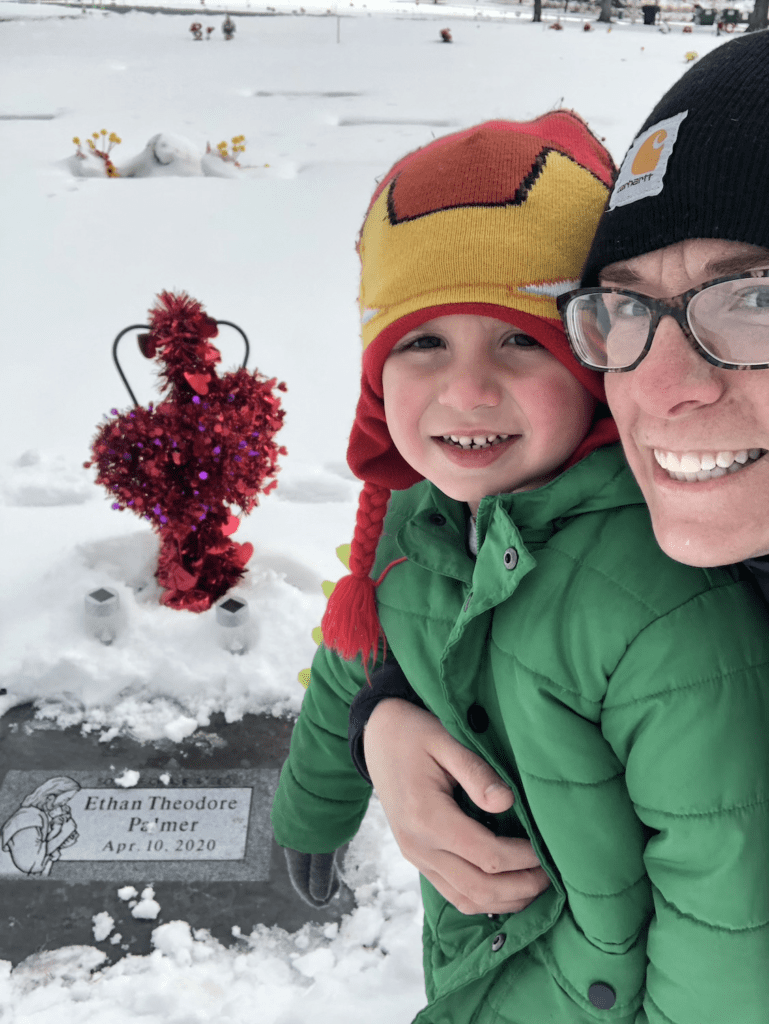 Hold an "Ethan's Eve" (use your baby's name in place of Ethan) the night before Christmas Eve. This works well with other siblings. We told Kason that Ethan came down from heaven that night and gave us presents to help us become closer as a family. He also includes white tea lights so we can light them to say thank you.
Give gifts to each of your family members for them to remember your baby. We gave succulents the first year and will do something different each year as a way for everyone to remember Ethan.
Go to the grave on Christmas Eve with white paper bags and candles (fake ones) to light all through the night. Or go to the cemetery if you've had your baby cremated and do this for another baby as a way to show this baby love from your baby.
Have an advent calendar of ideas to do each day as a way to remember your baby.
Go to the grave each holiday and leave decoration or flowers. Memorial day weekend, is always such a beautiful time to go.
---
I wanted to add that it's perfectly acceptable and normal in grief to change holiday plans, and to do something different. Your baby died, your world stopped, and it's okay to not follow tradition and what you've done in the past.
This is you, and your family healing from something so traumatic that happened to your family. So please stop pretending that everything's okay.
I hope these ways to honor your baby, helped you. If you've done anything aside from this list, for your baby that died, I'd love to hear, and I'd love to include them.
P.S. Are you needing help paying for IVF? Sign up for my newsletter and get my free printable on "10 ways to pay for IVF."
P.P.S. Read about our stillborn Ethan's birth story.
P.P.P.S. Check out this post about what it was like for us to go through pregnancy loss.
P.P.P.P.S. AND be sure to check out my Etsy shop!