I normally shy away from sharing anything pregnancy related here on the blog. Mainly because with infertility, you don't need that added sadness from others' birth stories. But, I wanted to share Ethan's birth story and what it was like to birth a stillborn.
Tuesday, April 7, 2020 I woke up not really feeling Ethan move. I didn't think anything of it because he normally didn't move very much in the morning, but for some reason around 10:30am I asked Chase to check the heartbeat with the doppler. We searched for 10 minutes unable to find anything. I called the midwives and they had me come right in. They searched for 10 minutes, got their ultrasound machine out and still searched for movement. Unable to find anything they called, Phillip, their ultrasound tech and I met him at a different birth center at 3pm. I drove with Chase and Kason to the birth center about 30 minutes away. They sat in the car while I went in. Within a minute of Phillip on the ultrasound he said "I'm sorry there's no heartbeat" I sat up and said "Are you kidding me?!" crying instantly. Phillip rubbed my back and tried to comfort me as much as he could while Chase and Kason came inside. We sat inside for about 10 minutes crying before getting in our car and crying another 15 minutes before finally having enough dry eyes to drive home. We called and told family, and I texted a couple close friends.
Within the hour I talked to my midwife on the phone and she gave me some resources and that I had the decision to either wait out the pregnancy or go in for an induction. I decided to sleep on it.
My gut told me that because Ethan had passed, if I waited for my body to start labor on its own then I might not get to see him in his most perfect state. I knew that once he passed his body starts to deteriorate regardless of being inside or outside of the womb. So I chose to be induced.
I asked my midwife (and she offered to help any way she could) if she could find a doctor or hospital who would allow Chase and hopefully a bereavement doula to be in the room with me during labor and the delivery. She found a doctor in Salt Lake City, and the hospital he delivered at let me have a bereavement doula in addition to Chase, due to our situation. The doula I was going to use with my midwife at the birthing center happened to also be a bereavement doula, so naturally, I elected to keep her as my doula.
We spoke with a friend, Camille, who had also experienced a stillbirth, and she told us that it is possible to work with our funeral home to bring Ethan home, like she did with her baby girl. I also spoke with my friend, Blaire, who has experienced several miscarriages and a stillborn. She said that she had given birth without an epidural and said she wanted to feel everything with the birth. She encouraged me and told me that I could do it.
We asked our friend Kelsey if she would make some calls for us and find a mortuary and get a burial plot. Hard decisions that we felt we couldn't handle on our own without breaking down on each phone call.
My induction date was Thursday night (April 9, 2020). Kera, our bereavement doula, has also experienced a loss and came to our house before Chase and I left for the hospital to go over my birth expectations and help us know what it'll be like delivering a stillborn.
Tuesday through Thursday was hard, knowing our Ethan had already passed. I was carrying around a dead baby, which made me cry every time I thought about it.
I decided that I wanted to still give birth without any medication, aside from the Pitocin to start contractions. When Chase and I got into our room at the hospital, I cried. I cried because this was the last time I would be pregnant with Ethan and I cried because I didn't know if i'd be able to or want to give birth without medication.
We met Dr. Edmunds for the first time and he checked my cervix. If I was dilated to 3cm or more then I would only need Pitocin, if I was any less they would start me on Cytotec and stay on that for about 12 hours. Thankfully, I was already dilated to 3cm.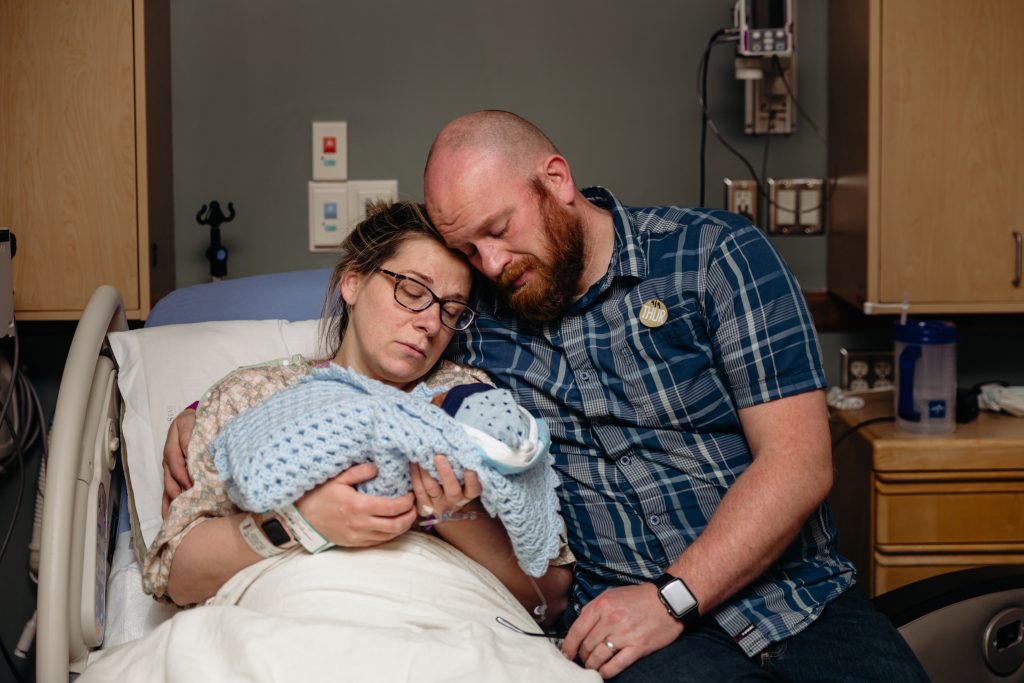 They set my IV up and started it on the lowest dose of Pitocin around 10:30pm and Kera arrived around 11:30pm. Within 15 minutes I was feeling mild contractions, but they weren't close together or enough to have to breath through them. I tried to rest, but couldn't rest enough to fall asleep.
It was around 1:30am when they were enough that I needed to breath through them. I wanted them to bump up the Pitocin at 2am and see if that would help my body move along.
Shortly after the nurse bumping the Pitocin up I remember feeling the need to poop. They were concerned with my needing to use the toilet, but Kera suggested sitting on the toilet backwards for a few contractions. I didn't end up pooping. While on the toilet she asked if I could feel Ethan's head. I did and it was within 2 knuckles. Chase left the room to go grab the nurse and let her know that Ethan was coming a lot quicker than they were anticipating. The nurse didn't realize it until Chase said, Tedi can feel his head at 2 knuckles. At that point she started walking more quickly towards our room.
I got back over to the bed really having to focus on doing what felt good, they applied heat to my lower back which felt amazing. In between contractions Kera/Chase would put pressure on my shoulders and massage my back. Something that reminded me to relax.
The nurse checked me and said I was 5cm and Ethan was at stage 0 (engaged in my pelvis). I then got on my hands and knees on the bed, which felt the most comfortable. After that everything seemed to move more quickly, and I felt the desire to start pushing. I moaned low relaxing tones, a lot longer breaths than I felt I could ever hold. I was letting go of the desire to control the contractions and let them come and doing what felt good to help them along. I was so hot that even with a cold cloth on my neck, I ripped off my gown. If you know me, you know that I'm a very modest person and this would be out of the ordinary for me. It was at this point that I felt that "ring of fire" that I've heard so much about. The burning didn't ever go away (until after he came out) and I just had to relax in the discomfort.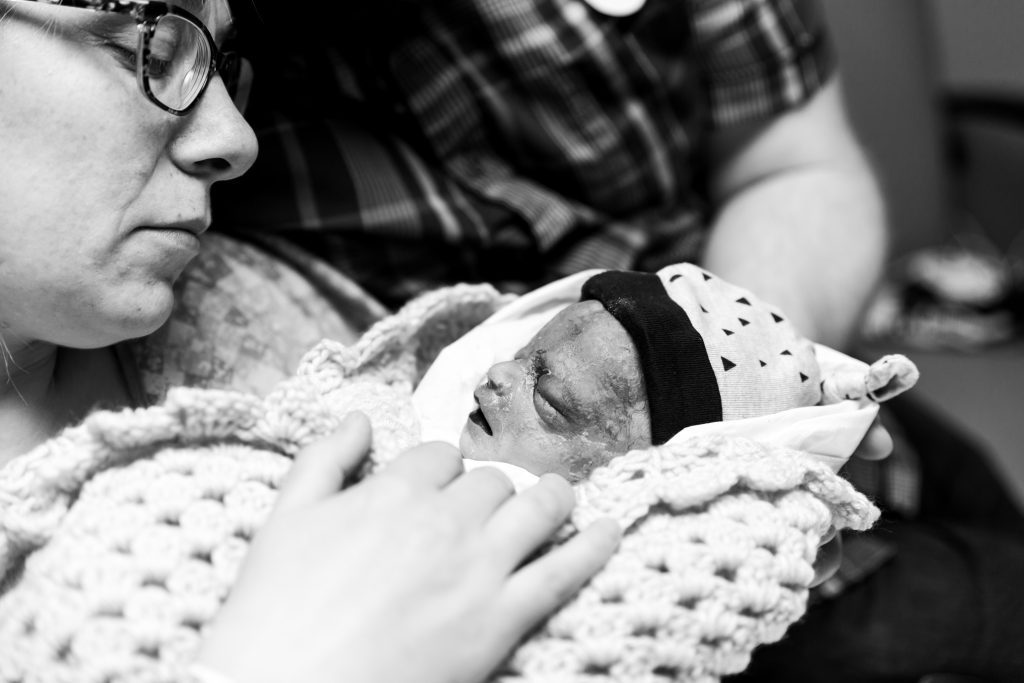 I was SO worried that I was going to tear. A few times I started to panic and started breathing fast, but both Chase and Kera told me I needed to breath slowly because I was hyperventilating. Chase told me to breath with him, and that helped me focus and slow my breathing down. I kept pushing when my body told me to push, and the next thing I know Dr. Edmunds told me I'd pushed Ethan's head out, and then the next contraction his body came. I believe I had little to no amniotic fluid left with Ethan, because Dr. Edmunds didn't need to break my water.
The silence was hard. Without the sounds of a newborn baby crying, the reality of the situation really started to sink in.
Dr. Edmunds said he wasn't going to pull on the umbilical cord because it appeared to be fragile. My body took a quick break from contractions, and then they started up again, and I birthed the placenta.
Ethan was born at 3:09am on April 10, 2020 weighing 4lbs 2oz and 18 inches long. My labor was only around 5 hours, though I had been having Braxton Hicks contractions on and off for several days.
After birthing Ethan I remember being so elated that I had birthed him unmedicated, that I yelled out "I did it! I did it!" because I was so proud of myself. I was so thankful that Ethan had still given me that birth experience that I wanted, even if my baby boy was born still.
As I was turning over onto my back (yes, the doctor let me push on my hands and knees) to get iced up, Dr. Edmunds examined the placenta. He was concerned with how small it was and thought that it might be bi-lobed. He wanted to make sure I didn't have any placenta left, so they pulled in the ultrasound machine, and confirmed that there wasn't any parts of the placenta left in my uterus.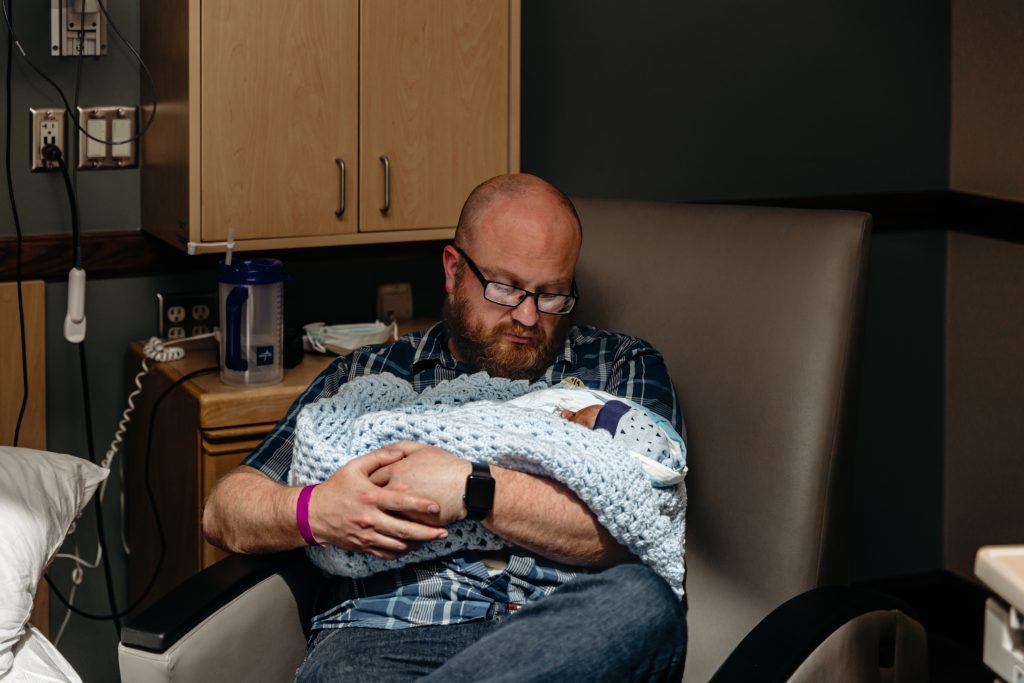 Dr. Edmunds said the size of Ethan's placenta was the size he would normally see of a 28 week old. He termed it "placenta insufficiency" and based on Ethan's size and length, Ethan had grown until he was 36-37 weeks, and then stopped. In other words, Ethan making it to 40 weeks meant he was a fighter.
Chase and I both weren't ready to see Ethan right after I had given birth to him. I was hungry and had the shakes really bad, and Chase was scared to look at him. Kera said it's completely normal to not want to see your baby at first.
Once we were ready to see him Kera gave him a sponge bath right on my lap. He was covered in meconium. After his bath I finally felt ready to hold him while Kera took pictures of us. The nurse came in and got his weight and height. As she picked him up she spoke to him as if she would have a live baby, saying "come here sweetie" and "your so precious." I thought it was weird at first, but I'm so glad she did. She didn't ever downplay my birth and experience because Ethan didn't live.
Around 5am Kera left, and we tried to sleep, though the nurse coming in and pushing on my uterus didn't really allow me to sleep. This hospital usually has a cuddle cot for stillborns, which keeps the baby cold, but it was broken, so the nurse put together an ice crib for Ethan to lay in when we weren't holding him.
We spent as much time with Ethan as we could, holding him, talking to him and singing to him. Chase, being an Elder in The Church of Jesus Christ of Latter-day Saints was able to give Ethan a name and a blessing with permission from our Bishop. While this does not have any bearing on what we believe in respect to Ethan being a part of our eternal family (it's not considered a saving ordinance), and didn't have to be done, but it was still a sweet and tender moment for Chase to be able to hold Ethan in his arms and, as his dad, give him a father's blessing.
After a few hours we realized that Ethan was starting to deteriorate a lot quicker than we were expecting, so we asked to be discharged. The nurse came back in and got Ethan's footprints.
Once we talked to Dr. Edmunds, the nurse prepped Ethan to be sent to the morgue. She took him out of the blanket and chux pad he was wrapped in and placed him in a tiny white cardboard casket. We both started crying knowing that we wouldn't see Ethan again until Monday, when the mortuary would let us take him home for a day.
I had delivered a baby, and now Chase and I would walk out of the hospital empty handed.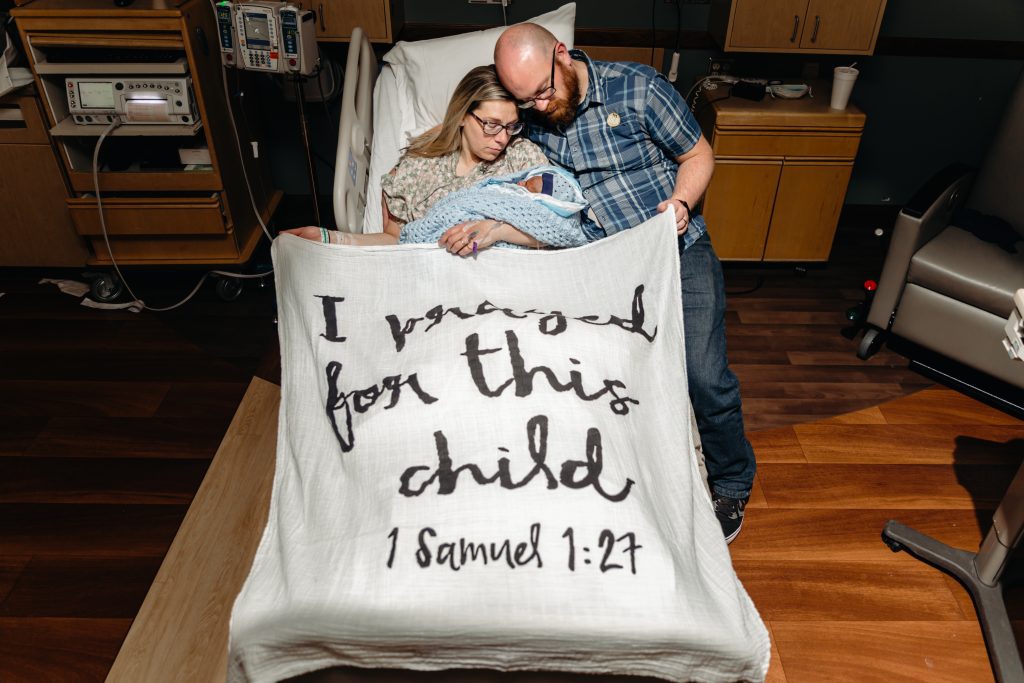 ---
Hindsight is always 20/20 right? There were a couple things that I noticed during pregnancy that could've been an indicator that something wasn't right. But I'm not going to go down that deep dark rabbit hole of "what if's".
Not seeing growth matching my weeks pregnant. In a 4 week period Ethan measured 35cm, 35.5cm, and 36cm for my 36, 37, and 39 week appointments. Whereas Kason measured right on for each appointment.
My amniotic fluid level (AFI) was around an 8cm at a 36 week ultrasound that my friend did for me. They start to worry with anything between 5-8cm.
A decrease in movement from 36 weeks on.
Moving forward, we aren't going to let fear stop us from growing our family. We will take extra precautions, and do as much as we're able to, but we have to remember that God is very much in control.
---
P.S. Go check out my Etsy Shop!