I'm no expert in marriage, but I wanted to give you a few tips that I've learned over the course of my 11 years being married.
Interesting fact about me: My parents got divorced shortly after I turned 11, and they were married for 13 years. I told myself when I got married I never wanted to end up like them. Don't get me wrong, it has been a challenging 11 years, but being married has been so fulfilling and so rewarding.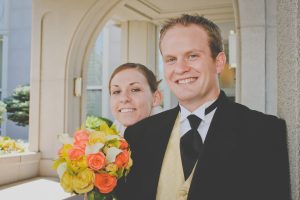 Give your husband grace
I don't know how many times I have needed to give Chase grace, and to let things go. We are all human and we all make mistakes. There will be times when you don't communicate well and it ends up in an argument, but still give grace. God gives us grace, so we should be giving the same to our partner.
Communication is the KEY
Growing up my dad would always say "Tedi, eye contact" while he was using his hands to get me to look at him. He basically was saying that he needed me to communicate and look him in the eyes. We need to communicate, and we need to be present when speaking to one another. We need to talk to each other – and yes, it does get harder with kids. Regardless, we need to communicate. We need to talk about what the day or week ahead looks like. It helps keep disagreements to a minimum.
Find things you enjoy together as a couple
Need I say more? This could be going on nightly walks, hiking, biking, fishing, playing games, playing video games, running, cross fit… there are so many great ideas, but you must enjoy doing them together. Chase and I have loved going to movies together (or watching them at home), and most recently have loved going hiking together.
It's okay to do fun things without your husband
Because I was working 40 hours and Chase was working 40 hours we hardly got to spend time together. So I was always a little very hesitant to go out with friends. There is something to getting out for a girls or guys night, and enjoying being with friends and doing things without your spouse. That fun time away makes it better when you are back together. I remember the quote: "Absence makes the heart grow fonder."
Disagreements are okay
A friends mom growing up would always say "It's not happily ever after once you're married, it's you get married, and you go to work." Growing up Chase never saw his parents argue or disagree, so when we argued when we were first married he was so worried that it would all end up in divorce. We are all human and we all disagree about some things, that's just how we are. Disagreements don't mean that things will necessarily end, but you shouldn't also be against each other.
Never say the D word
We set a rule early on in our marriage that we would never say the D word (divorce). This word was usually brought up within an argument, and it never felt good after having said it. So we decided together that we would never say it, think it, or even talk about it.
---
Obviously marriage takes work from both husband and wife. I try often to remember the reason I fell in love in the first place. We have a wedding video that we try and watch every year on our anniversary. It gives me all the giggles and memories from that day. Chase and I also, pray and read our scriptures together, as a couple every day.
I heard somewhere that if you want to be great at marriage you should be reading books on marriage, dating your spouse, and doing things that great marriages are built on.
Here are a few books that we have read over the years that have really helped our marriage:
"I don't have to make everything all better: Six practical principles that empower others to solve their own problems while enriching your relationships" by Gary & Joy Lundberg
"The Five Love Languages: How to Express Heartfelt Commitment to Your Mate" by Gary Chapman
"The Seven Principles for Making Marriage Work" by John Gottman
"Boundaries in Marriage" by Henry Cloud and John Townsend
---
P.S. Are you needing help paying for IVF? Sign up for my newsletter and get my free printable on "10 ways to pay for IVF."
P.P.S. Read about not being bitter in the face of trials.
P.P.P.S. Be sure to check out my Etsy shop!