So often we forget when we're in a bad mood, or down and depressed that exercise can improve your mood. While I was writing, things that we wished we could change, I realized I haven't been running or doing any type of exercise for quite a while.
I have felt down, depressed, and not wanting to do anything. Normally, I am NOT like that, I am the type of person that always has to be doing something.
But lately my motivation for running and exercise has been completely gone! I didn't even want to do my exercises that my Chiropractor gave me, and they aren't that hard.
After my Chiropractor told me that I could start running again, I started going on weekly Saturday runs, just to work back into running.
I was trying to keep my fitness level up, but even then I still wasn't really "feeling it."
Finally went out and ran with my friend, Alli. We went 3 miles, and it felt pretty great.
After that run, I felt a lot happier that I had been out and with a friend, and I was in a better mood.
In that few weeks time period I came up with 5 things that helped me get my love for running back.
How can exercise improve your mood:
It gets you out and being active. Outside is a change of scenery and helps you think clearer.
Not as stressed. Yes, exercise is a stress on the body, but it's a good kind of stress rather than a bad stress.
Relationships are better because of taking time for YOU.
And "Exercise gives you endorphins, endorphins make you happy, and happy people just don't shoot their husbands." -Elle Woods (Legally Blonde)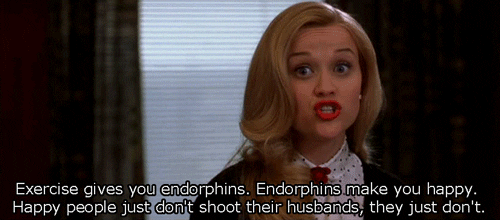 ---
P.S. Are you needing help paying for IVF? Sign up for my newsletter and get my free printable on "10 ways to pay for IVF."
P.P.S. Read about some low impact exercises you can do during fertility treatments.
P.P.P.S. Be sure to check out my Etsy shop!