After 2,737 days of waiting, praying, crying and anticipating we are finally pregnant with our miracle.
If this is in any way a trigger for you, I would advise to skip this post. I will not hold any hard feelings. I am sharing because this blog has been about our journey with trying to get pregnant.
Here's our pregnancy story
The first weekend in October Chase and I were going to walk the 50/20 (50 miles in 20 hours). I started spotting and thought my period would come while we were walking, so I took what I needed.
On Sunday I realized I still hadn't gotten my period. So not thinking anything of it, I finally tested (knowing full well that as soon as I test I would either get my period or it would be negative) on Wednesday, and it barely showed positive. Thoughts came that it was a false positive and threw it in the trash.
Next day came and I tested again, and a faint line showed up, I compared it to the one I threw in the trash and the line was lighter then the previous day. So the thought came to my mind that my hCG numbers were declining and that I would miscarry or it was another false positive.
Tested on Friday (3rd day in a row now) and the pregnancy line was a bit darker.
**I was using cheap Amazon tests that were at least 5 years old, so I wasn't sure if they'd actually be accurate.
Saturday, I tested with a more recent pregnancy test and it turned positive within a minute (test results said within 3 minutes). We couldn't believe it! How could we possibly get pregnant on our own?! In the 7 years we had been trying I had never once gotten a positive pregnancy test.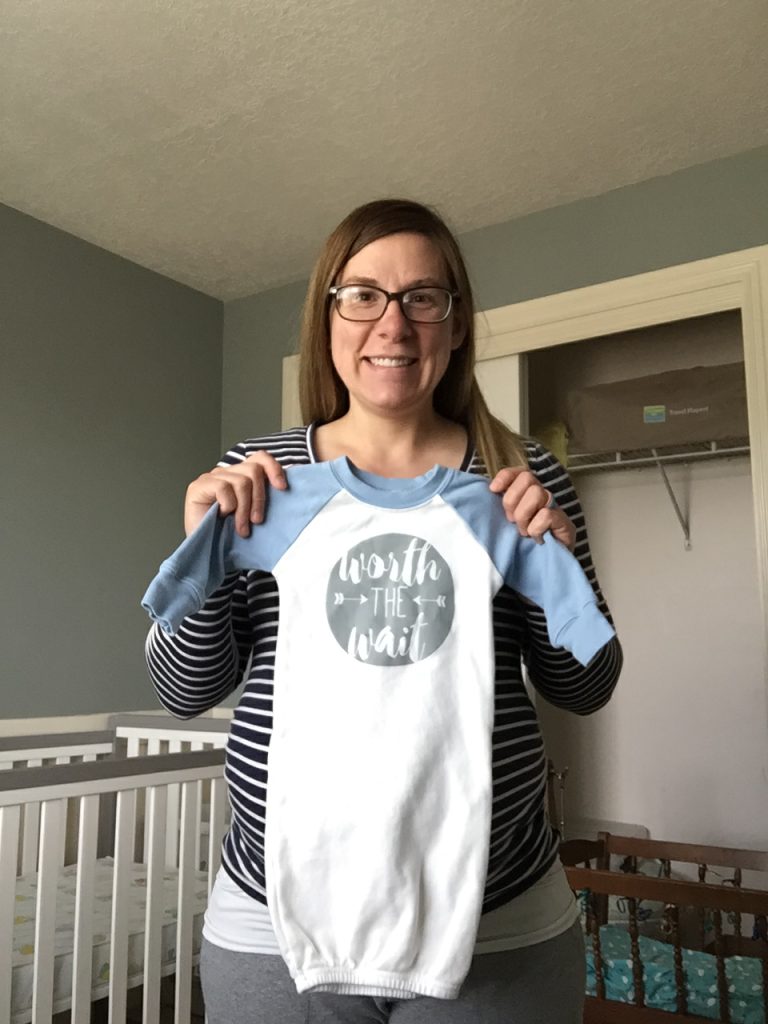 In answer to questions, no, we weren't "just relaxing". My fertility doctor basically said, I would never be a biological mother, and I was grieving that. We were working on getting out of debt, and I had decided if we hadn't gotten pregnant by the end of the year I was going to get a second opinion from another fertility doctor. We also weren't working on adoption papers.
At this point we didn't know what to do, so we called the fertility clinic and was able to get early monitoring.
My IVF coordinator suggested I get on progesterone suppositories and started those back up.
They performed 2 beta tests done within a week of each other. Our first one was over 2,000 and the following week it was over 12,000.
A week after, we got an ultrasound to hear the heartbeat and see the embryo. That was the craziest and coolest thing and Chase and I teared up. Our ultrasound tech (who had been helping us for the past year) teared up too.
2 weeks later we got another ultrasound and saw the heart flutter on the monitor. We weren't able to meet with our RE because we had to go to different location, and I was pretty bummed about that.
During this month we were VERY hesitant telling anyone, and afraid that this miracle would be taken away at any moment.
After so much struggle, I think anyone would have the same mindset.
We only told at least 4 people to start with, including our friends who had also been dealing with infertility. Trying to treat them with love, we felt that we weren't going to make pregnancy a topic to talk to them about. If they wanted to know, they could ask, otherwise I didn't talk about it.
Somehow we were able to keep this hidden from our family and a lot of our friends for 2 months. It was really hard to keep it from them, but we wanted to make sure we were out of the first trimester. Pregnancy after infertility is so unknown, so we chose to tell them on Christmas. And I'm sure that was the best Christmas present they could've asked for.
Waiting over 7 years to get your miracle is hard. That is why I chose to not make pregnancy after infertility the sole topic of this blog. You'll see lots of posts related to infertility and unfortunately loss.
---
P.S. Check out my Etsy Shop.
P.P.S. If you're just reading this, and are confused on why I'm sharing about our pregnancy, here's our fertility timeline.